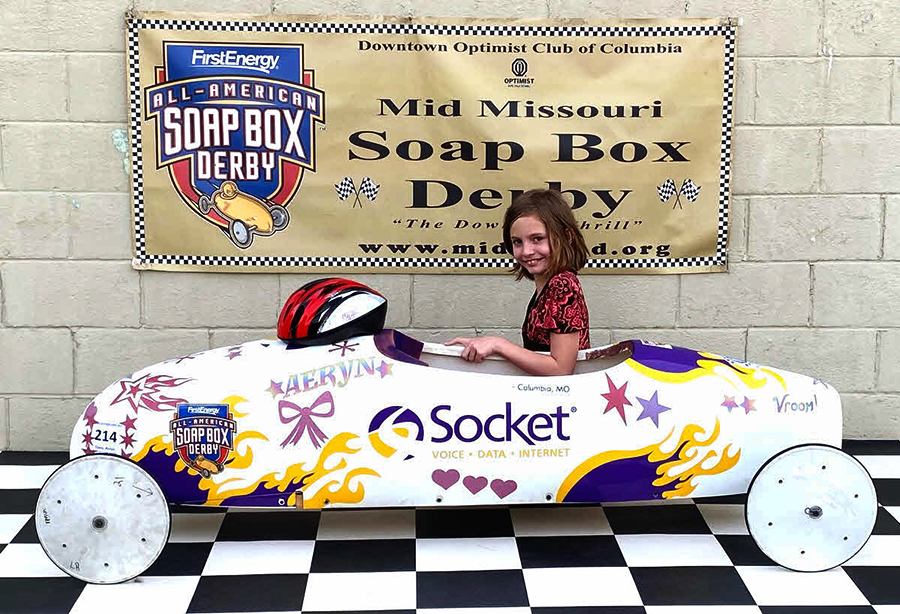 (COLUMBIA, Mo.) - Socket car competes in annual Mid-Missouri Soap Box Derby meant to engage children and their parents in the community. 
Last Sunday, the Downtown Optimist Club held their annual Soap Box Derby  race. 53 racers took their marks at the top of Broadway and 7th to compete for the ultimate trophy. Among these racers was little Miss Aeryn Davis (pictured above) who used the Socket derby car to speed into eighth place.
 Miss Davis isn't the first to represent us in the competition. 12 years ago, Michael Connon (pictured right), then 10 years old, raced our derby car to the finish line for the first time. He placed in fifth that year and has held the title for highest placement since.
 Michael and his father Josh Connon, Socket's own Business Sales Rep, first heard about the race from Rick McKernan, the sponsor. At the time, Connon was selling fiber optic internet to McKernan. After some discussion McKernan mentioned the Soap Box Derby to Connon.
"I don't quite remember the conversation," recounts Connon, "but, he [McKernan] brought up the race and asked if I had any kids. He told me about the race and asked if Socket would be interested in sponsoring a car."
Connon then approached Socket CEO, Carson Coffman, to propose a sponsorship. He said yes!
"It's kind of been a no-brainer to keep sponsoring the car," says Connon, "Especially since we got the car all stickered up." Since then, his two younger children Elizabeth (left) and Katelyn (not pictured) have competed and passed the torch to other future racers. 
The Downtown Optimist Club aims to "Bring Out the Best in Kids" with this derby. As a result, the derby is free to compete in. If a sponsored car is available, a local kid can compete.
The race allows children to bond with their parents, usually fathers, and build something that they can be proud of. Socket is excited to continue giving a child the opportunity to experience this local tradition. We can't wait to win next year!